If you love pumpkin, try this 2-ingredient recipe from Momcrieff.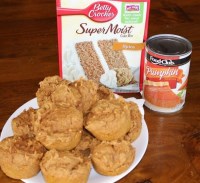 PUMPKIN MUFFINS – Makes 12 muffins
Ingredients
1 spice cake mix
1 can (15 or 16 oz.) pumpkin puree (NOT pie filling)
chocolate chips (optional)

Instructions
Preheat oven to 325 degrees.
Stir spice cake mix together with pumpkin. Scoop into lined or well sprayed muffin tins.
Optional – add chocolate chips.
Bake 18-20 minutes (until toothpick comes out clean).
It's never too late to make healthier choices!