Do YOU experience FOMO?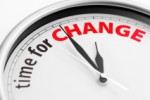 Why do we often feel that we are missing out in today's fast-paced world? That fear costs us more than we realize.
Michael Hyatt's "Why FOMO Keeps Us From Being Productive: 5 Steps for Choosing the Right Opportunities" hits the nail on the head. I think everyone can relate to this article. Improve your productivity by implementing one (or more) of his five steps. I need to work on #4!
Have the dull gray skies of winter sapped your energy and left you feeling less productive than you'd like? Check out Heidi Grant's "How to make yourself work when you just don't want to."
Ask yourself, "How can I be more productive?"