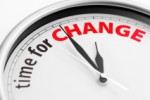 I know it's summer, and for many people, it's likely the time
  of year when you feel most lazy. If you're on holidays, that's
OK.
  If you're supposed to be working, it's a different story.
How well do you manage your time?

Check out Lolly Daskal's short article 7 Time Management Mistakes That Are a Complete Waste of Time.
Ask yourself, "How can I be more productive?"