Meet Cathy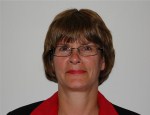 Since the launch of A New Leaf in 2006, Cathy Mendler has extended her reach beyond the needs of her own clients to inspire individuals and businesses across Canada to organize their space, increase their productivity and simplify their lives.
Cathy served as Director of Education (2013-2015) and Director of Internal Communications (2010-1013) on the National Board of Professional Organizers in Canada (POC). Through her work as a Certified GO (Getting Organized) System Trainer, Cathy encourages and motivates fellow professional organizers to improve the lives of their clients. She also delivers seminars to a wide variety of community organizations, including secondary school students and youth groups, across the Waterloo Region. She has also been a regular columnist and contributor to the "Getting Organized" section of the Elmira Independent Weekender.
Cathy is also committed to professional development and continually updates her skills as a professional organizer. As a Trained Professional Organizer, she has completed 22 courses through the Institute for Challenging Disorganization (formerly the National Study Group on Chronic Disorganization) and has completed courses in Interior Decorating, Floor Plans, Space Planning and Presentations at Conestoga College.
In both her professional and personal life, Cathy strives to improve the lives of her clients, friends and associates through her dedication to education, as well as her commitment to self-development and on-going client support.