HEALTHY RADISH, FENNEL AND PARMESAN SALAD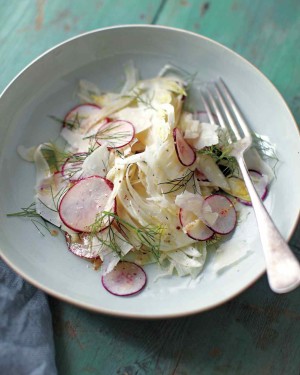 Pair this yummy salad with a healthy meal!
INGREDIENTS
•    2 tablespoons extra-virgin olive oil
•    1 tablespoon fresh lemon juice
•    2 teaspoons whole-grain mustard
•    coarse salt and ground black pepper
•    1 bulb fennel, cored and thinly sliced, plus 1/4 cup fronds
•    5 radishes, thinly sliced
•    3 tablespoons freshly shaved Parmesan cheese
PREPARATION
1. Whisk together oil, lemon juice, and mustard. Season with salt and
pepper.
2. Toss dressing with fennel bulb and radishes, and adjust seasoning if
necessary. Top with Parmesan and fennel fronds.

For more recipes, check out our GET HEALTHY archives.