Archive for the '07 Checklists' Category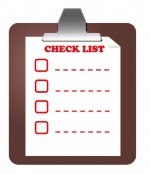 Is part of your home office a dedicated homework area? We have a Homework Supplies Checklist just for YOU!
Check out the monthly ORGANIZE YOUR ENVIRONMENT Workshop Series at the Kitchener Public Library. These workshops offers tips, tools, strategies and resources you need to create your best environment. All speakers are members of the Grand River, ON Chapter of Professional Organizers in Canada. Cathy will speak on Effective Time Management in September.
There is NO charge to attend the workshops. Registration is required.